RAMONES-1976
RAMONES-1976
JOHNNY RAMONE GRADE: A
April 23,1976 Sire Record
" After each take, the engineers would ask if I wanted to hear it back, and I'd ask them how it sounded. "It sounded good." So I just said "OK, let's keep it going." I didn't need to hear it back. We did all our tracks in two days at Radio CIty Music Hall.We got this done for sixty-five hundred dollars, which was cheap even then."
-Johnny Ramone, from his book Commando
1."Blitzkrieg Bop"
2."Beat on the Brat"
3."Judy Is a Punk"
4."I Wanna Be Your Boyfriend"
5."Chain Saw"
6."Now I Wanna Sniff Some Glue"
7."I Don't Wanna Go Down to the Basement"
8."Loudmouth"9."Havana Affair"
10."Listen to My Heart"
11."53rd & 3rd"
12."Let's Dance" (Chris Montez cover)
13."I Don't Wanna Walk Around with You"
14."Today Your Love, Tomorrow the World"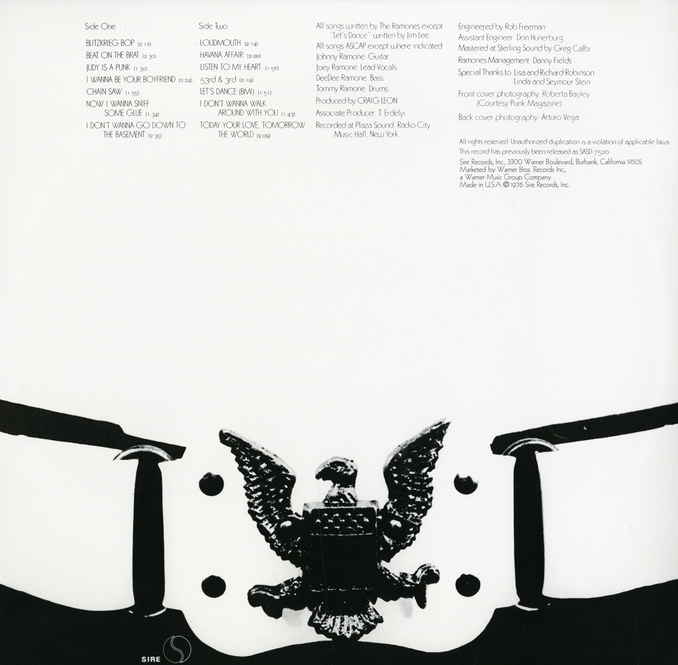 RAMONES BACK COVER
The back cover to the Ramones album was designed by artist Arturo Vega who produced the photo of a belt buckle in a photobooth